Thursday, October 2nd, 2008
I've always liked the idea of having blue hair (not granny style rinse, but proper in-you-face-bright style) and although over the years have done a few dabbles here and there (mainly with the gel stuff to spike it) - I never really got a decent effect.
If we go back to 2003 - this looks cool, but used to run when I'd sweat and was a pain to do (as you had to align it to the spikes)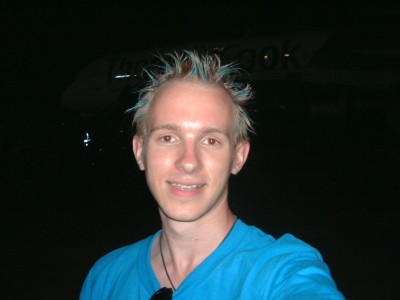 So then nothing happened for like a million years after that, until I got back to the UK at the beginning of this year and bought some proper blue dye. It said for best results to bleach first, but I wasn't happy with that, so just applied it without.
It definitely did something, but not quite what I had hoped for: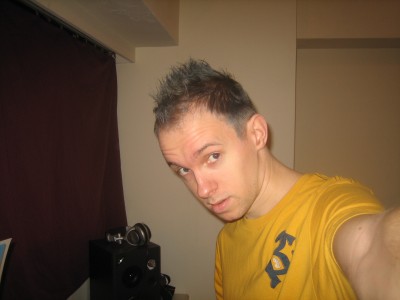 You can't see it very well in that light, but it sorta went a bluey-greyish colour - I actually thought it looked pretty cool, but then it went and washed out after 2 or 3 days.
After that I kinda gave up - although I wanted to do the bleaching, I was worried that if it looked rubbish I'd be stuck with it for ages. And that is when the solution appeared!
Whilst wandering around the Tokyu store in Bangkok, I found a spray on colour in exactly the blue I wanted! Hurrah! So now I could test what it would look like, without having the worry of it was terrible, I'd be stuck with it.
Therefore (and ignore the patchiness - I couldn't quite get it even) ….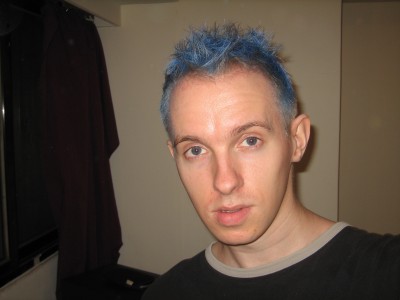 That's more like it! Fantastic result and definitely passes the "I like it blue" test.
Now I just need to order some more of the original colouring, a little tube of bleach and away we go!
Watch this space!